Systems and Components

Connections
Sanding equipments
Hoses
Railways ball valves
Pneumatic suspension valves
Windscreen & wiping systems
Other Railways Items
Systems & components for industry
NEW : FBO launches a new range of fittings according to ISO 1179-2 
VEBEO  COMPRESSION  FITTINGS
1 complete range of
compression fittings
used for more than 50 years in :  
hard applications (vibrations, shocks, misalignment, ...)
safety applications (braking, ...),
applications with low temperatures -50 ° C.
Vebeo reliability has largely been recognized
in the international railway sector.  
The mounting easiness and time savings are important assets in its use.  
Respect for Vebeo fitting mounting instructions ensures the smooth operation and longevity of the installation.  
PUSH-IN FITTING PNEUCLIP
This fitting allows :  
Instant automatic connection by simply introducing rigid polyamid or polyurethan tube OD 4 to 14 mm
disconnection by simply pressing the release collar.
Pneuclip fittings offer
2 ranges giving perfect tightness
on the low pressure because of their original technology networks :  
Push-in fitting.
Push-in fitting with "function" :

flow limiters,
valves controlled locking function,
circuit selectors.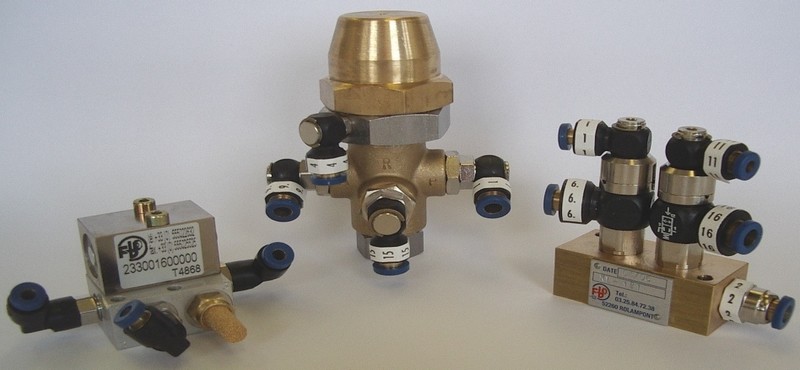 FBO
offers
5 types of ejectors sand
for all railway rolling vehicles :
Standard gravitational type (approved by SNCF - MTSL 2 / 97-00478)
Multiple type
Monobloc type
Compact type
DEM type
with :
Unclogging function.
45° or 90° position.
Sand flow according to customer demand.
Working pressure 4 to 9 bars.
Used on High Speed train (HST).
Association with heater  for very low temperature.

FBO can control complete function
that combines :
Air production (board compressor).
Sand boxes (adapted tank).
Accessories such as level sensors, expansion valves, pressure switches, filters, valves, hoses and outlet nozzles.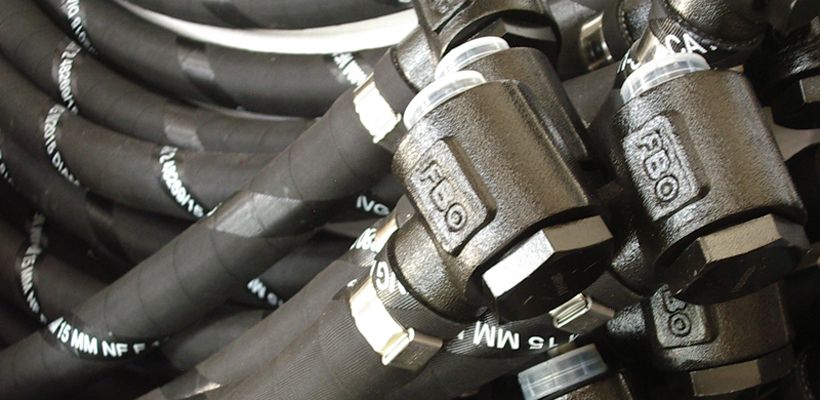 FBO is offering hoses solutions "at the request" for multiple applications in the railway rolling stocks field :
 
Connection brakes - bogies.
Connection passenger cars - bogies.
Sandblasting.
Compressors.
Drain tanks, ...
The pipes are using NFF 11-380, DIN 20021 (EN854), VAMAC and GOST Standards with smoke and fire classification for association with :
 
Vebeo fittings Union, male, adapter, female, equal, banjo.
Swivel nuts according to NFF 11-070 standards, DIN 20078, BS 5200, DIN 43210 24 ° or NFL.
The connection is made by clamp, setting or welding.
Hoses and stainless steel fittings meet the low temperature requirement : -50 °C.
In the case of need for protection against shock, FBO offers :
PVC spiral sleeves.
stainless steel braids.
FBO
offers for railway rolling vehicles :  
1 isolating valve line ø 8 to 40mm for compressed air systems.
1 stop valves line ø 8 to 25mm pipe and main pipe homologated by SNCF.
Isolating valves exhibit the following features :  
Screw according to NF F 11-806.
Flange according to standard STM 806
with possible options : safety lock, electric contacts, paint, gaskets for various temperatures or fluids.
The stop valves DN25 have to be screwed on pipes according to EN 14601 and NF UIC 542 with possible options: painting, sensitive notched handle, thick cataphoresis painting
DN65 drain valve
is used for passenger cars equipped with recycled toilet holding tanks.
It is designed :  
to meet the specific requirements of the environmental field.
to withstand bactericidal and descaling products.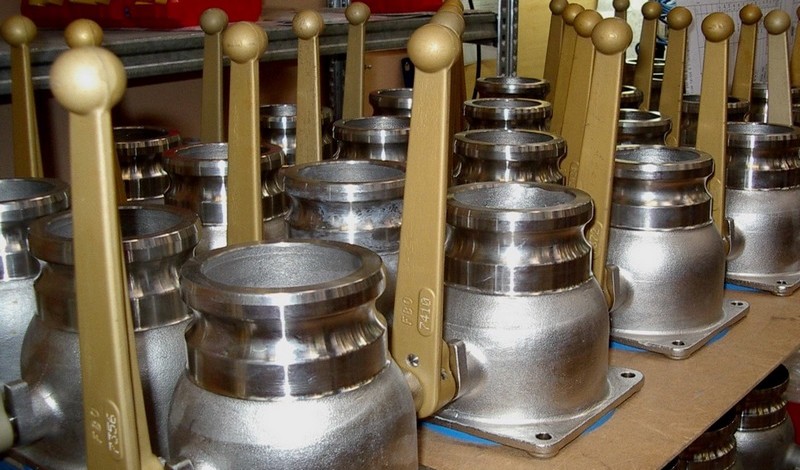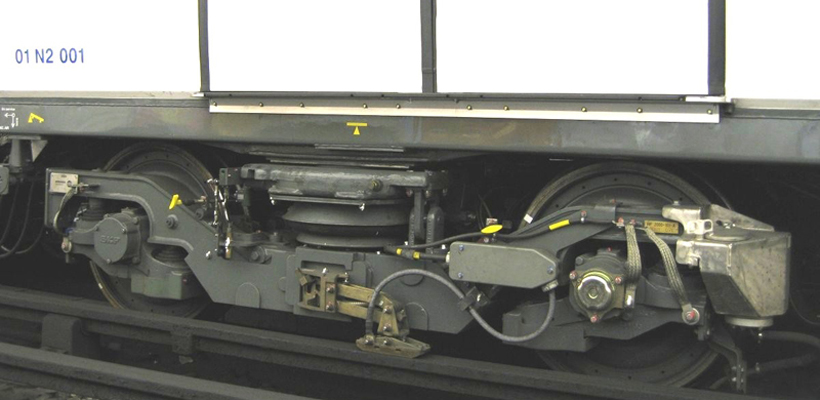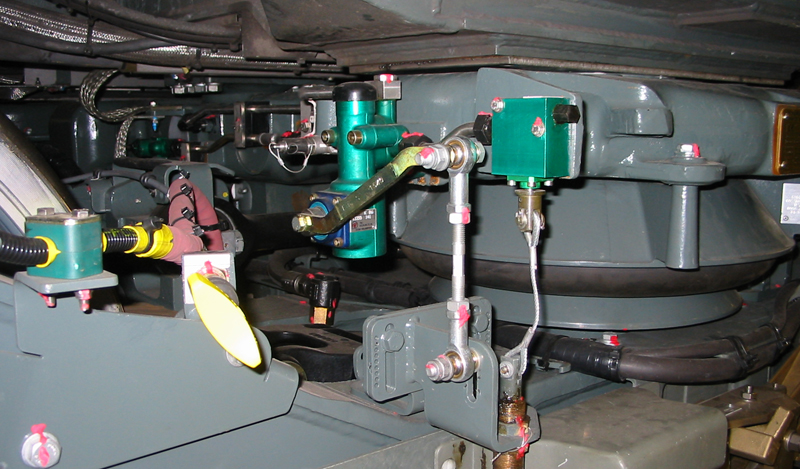 PNEUMATIC SUSPENSION VALVES
FBO
is offering :
suspension valves for HST or intercity trains and subways for travelers' comfort.
integration of these products in plates or tube circuits for a complete air suspension function.
The leveling valve
is intended to equip the air-spring suspensions :
To maintain the length from car-body to the bogie regardless of the load distribution.
to control the inflation of pneumatic suspension.
with vertical or horizontal mounting on the bogie or on the car-body.
with enhanced corrosion (500 hours salt-spray).
Optional mounting of a check valve on air supply.
The differential valves
ensures the level of the vehicle in the event of major leak in an air-spring :
by mounting to the end of the car-body.
allowing the air supply of the failing suspension by the symmetrical suspension system.
The safety valve
(or discharge valve) ensures fast draining of air-cushions in case of failure :
for the case where the distance from car-body to bogie exceeds the determined threshold.
with enhanced corrosion (500 hours salt-spray).
The DN15 filter is designed to meet the demands of pneumatic circuits for pollution :
 for mounting on the compressed air line for the pneumatic spring suspension.
to avoid significant pressure losses.
for periodic cleaning without dismantling the piping.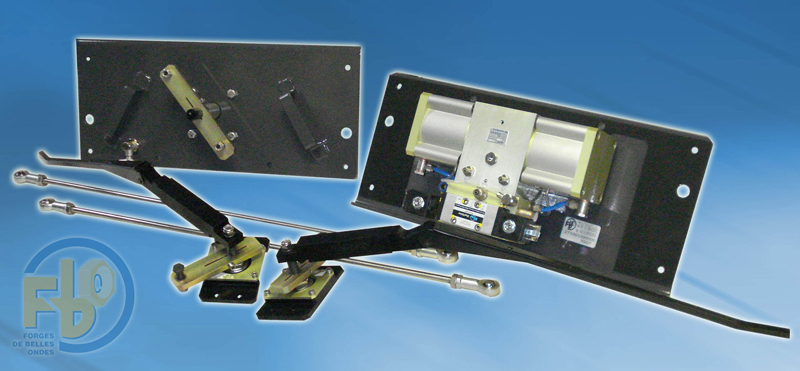 FBO
is experienced for many years in the constraints of equipment for rail windscreen wiping & washing systems (WWWS) :
Technical valuation and complete function,
Reliability study (RAMS)
Technical support,
After-sales service.
Our materials (WWWS) allow :
to operate with pneumatic motors or electro-pneumatic for a nominal adapted torque,
angular or parallel scanning with the integrated pantograph system in tubular arm,
adjustable sweeping speed,
intermittent sequences, adjusting end absorber,
perfect reliability at high speeds (HST)
self-test diagnosis with fault recording for the electro equipment.
FBO
is selected for the function windscreen wiping & washing systems by many railway operators such as the railways :
French,
English,
Belgian,
Dutch,
Korean.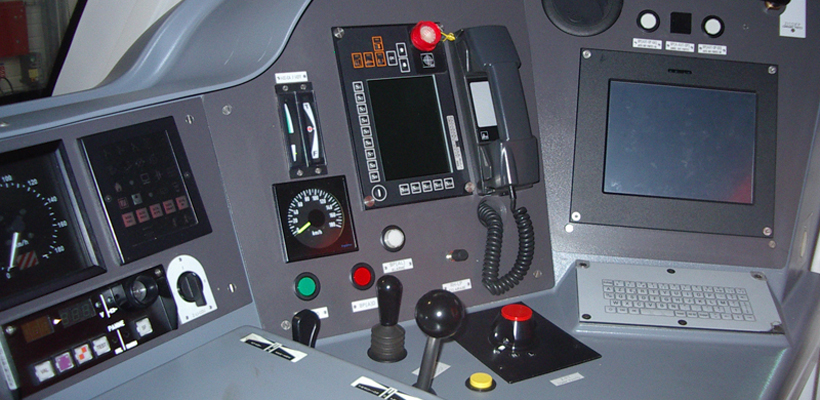 HORN CONTROL VALVE
The horn control valve meets the requirements of SNCF Technical Specification No. 4MCS0826 and is mounted on the main panel of the driving cab.  
A pneumatic or electro complete range for all rail vehicle :  
With 1 or 2 switches or without,
With joystick or button.
KIT FORM
FBO
through a complete service for automation, carried out the study, analysis and implementation of kit forms :
 
Pipe following requirements of the Specifications : material, function, etc ...
Implementation
Definition of the required components: fittings, valves, hoses, etc ...
Respect for very low temperatures.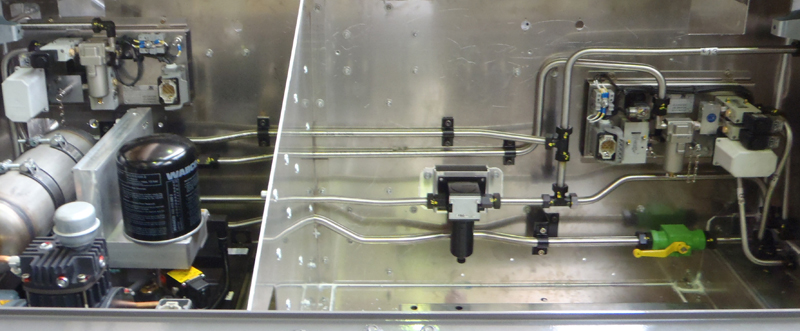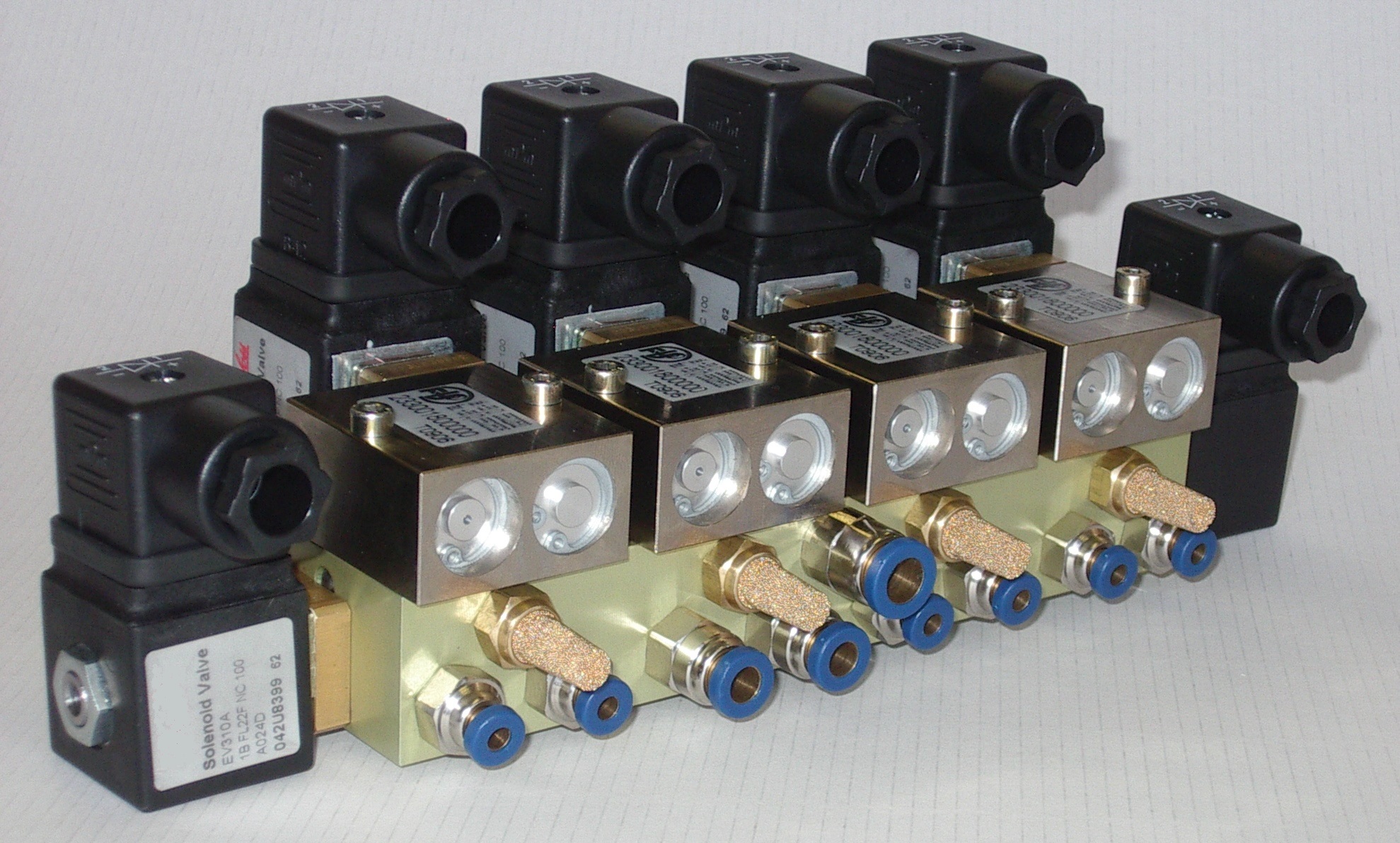 CONTROL SYSTEMS
For quick and easy maintenance
FBO
performs pneumatic functions grouped in the same control system for example :  
control access doors, inside doors, gangway doors in trains,
toilet control
suspension control,
wiper control,
seats control,
air conditioning control.
PNEUMATIC RAILWAYS CYLINDERS
For over 45 years
FBO
has a perfect experience in design and development of embedded pneumatic cylinders on passenger rail vehicles (trains, trams, subways,...).  
The use of the cylinder is primarily on :  
doors
pantographs
High Speed Trains coupling.
The pneumatic operation can be completed by a mechanical lock even without compressed air.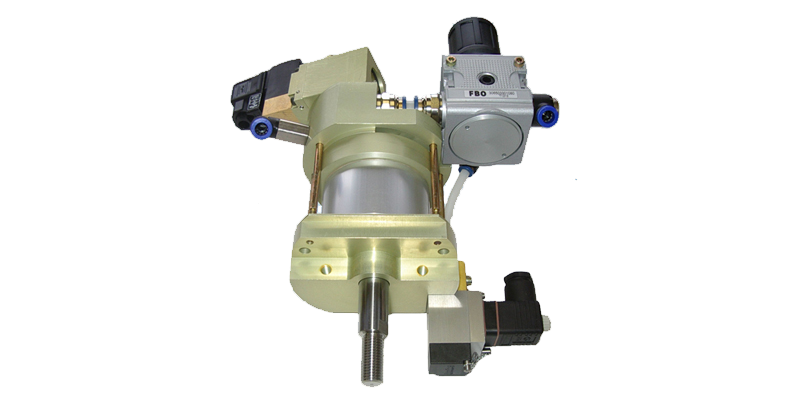 PNEUMATIC CYLINDERS

FBO
is offering a large range of cylinders in compliance with standards :  
ISO 6432/6431 - NFE 49003
CNOMO June 07 02/03 - AFNOR 49 001/002
wide-spread in industry and especially in the food industry with the series :  
PX stainless steel cylinders designed for their resistance to corrosion and cleaning.
PNEUMATIC & ELECTRO-PNEUMATIC VALVES
FBO
offers 2 lines of distributors 3/2, 5/2 & 5/3 :
Valves ISO 5599/1 sizes 1, 2 & 3.
Direct connection valves (Mindman series) 1/8, ¼, 3/8, ½ withpneumatic or electric controland manual lever.
FBO
also provides a variety of sensors in pneumatic or manual mechanical action :
Sensors and manual control button.
Mechanically controlled sensors.
Micro-sensors.
Foot-valves.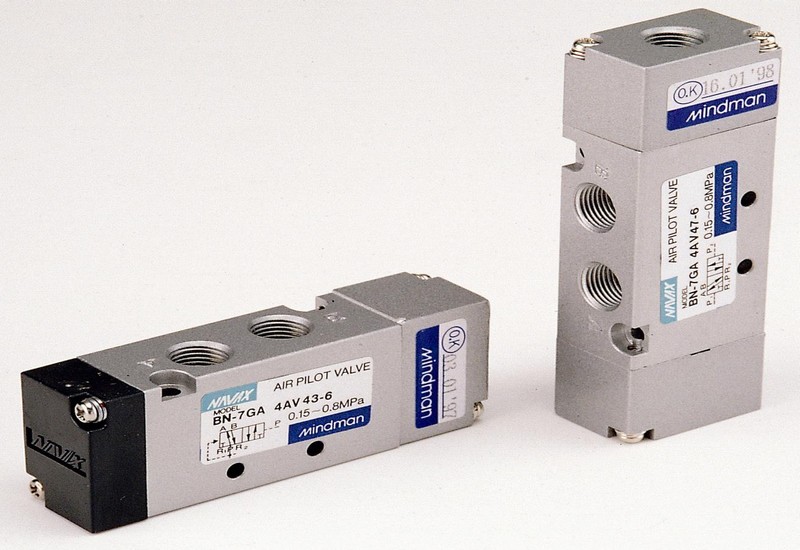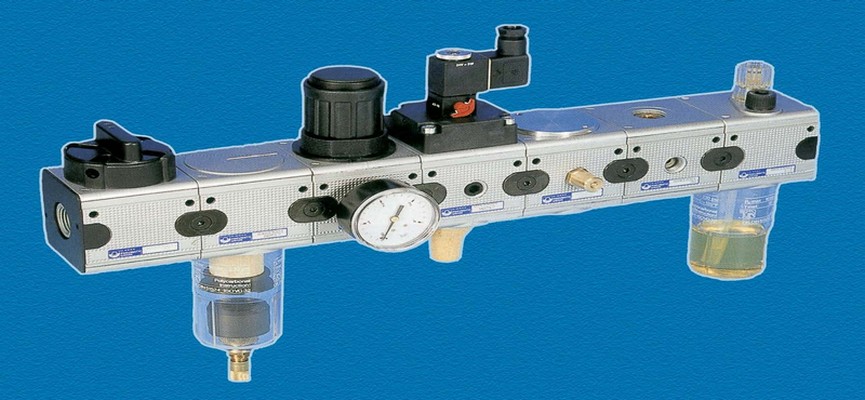 PRESSURE REGULATORS, FILTERS AND LUBRIFICATORS

FBO
has a modular equipment line from 1/8 to 1 ''  allowing any combination during the processing of compressed air :  
filters.
Pressure regulators.
lubricators.
Filter-Regulators.
Isolating valves.
Isolating switch-off pressure.
Progressive starters.
bypass blocks.
gauges. 
Previous
Next